If you've been in any of our studios, you will already know that we have the best team ever! How lucky are we? You might have met the brilliant Jacqui at our studio in Carrigtwohill or at The Kingsley, and if you have we're sure you'll agree that her classes are fun, effective, and just all around amazing!
Thanks for being such an important part of #TeamEliteCork Jacqui. 
Get to know Jacqui a little better below!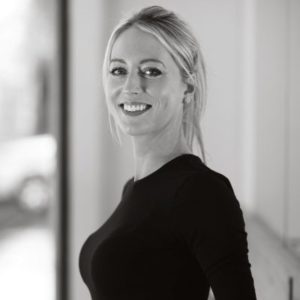 Tell us a little but about yourself?
I've always been interested in health and fitness so have pursued my passions qualifying as a Chartered Physiotherapist in 2010 and have used pilates in my rehab and prehab programmes ever since.
I love to travel, family is everything to me, I'm passionate about my job. I hate not being able to give something 100%. 
I have a gold all-ireland minor camogie medal – I started every game except for the final ☹️ ( I did come on though) 
I have a gold secondary school provincial camogie all-stars medal 
I have international caps in soccer u17 and inter-varsity gold medals
I've broken my nose and ankle playing soccer – different occasions 
I love sleeping 
How long have you been working with Elite?
For over a year now.
How did you start teaching pilates?
I began when working in the NHS – I wanted to use mat pilates as a rehab tool so went and trained with APPI & and am a qualified mat instructor. I became a reformer instructor in 2016 and have pre-natal mat and reformer qualifications too.
What would you say is your favourite thing about working at Elite Pilates?
Freedom to be creative in that if I wanted to move in a certain direction – work with antenatals for example, i would be supported and guided.
Why did you choose pilates as a career?
It's the basis of all movement – you're core/pelvic floor is so central to all activities of daily living and exercise. I see the limbs as levers that move around a centre which needs to be strong and conditioned. If it's not then a persons spine or limbs will carry the load and dysfunction will likely follow.It's called your core for a reason! As a Physiotherapist I use it as a rehab tool for treating clients and as a pilates instructor I'm continually ensuring clients move safely and learn the key elements they need to progress and get stronger – while having fun!!
What 3 words would you say describe you?
Passionate, caring, approachable/open. And for balance my husbands 3 words about me: 
kind, fun, personable.
What 3 words would you say describe Elite Pilates
Accessible, fun, professional.
What would you say are your top 3 passions and why?
Husband/family, exercise and travel. I'm a people person, I'm one of 10 children and need to be around people or I'm not my happiest, I'm very lucky to have 6 sisters (6 best friends). Exercise is my therapy, I always played lots of sports so when I stopped playing I found running and gym replaced the gap that competitive sport had left. I love experiencing new cultures – I would travel the world if I could – on a bike with my husband, staying in 5 star hotels preferably.
When you're not in studio, how do you spend your time?
Not doing anything special to be honest! Relaxing, seeing friends and family. I do love coffee and chocolate, a whiskey in a cosy pub and a long walk on a dry day (rarely happens!!) Netflix and chill of course – I should read more.
What advice would you give to anyone looking to give pilates a go?
Be patient, learn how to engage core and pelvic floor properly and you will find that you're body is able for any move. Also, never compare yourself to others, we're all too different, a good instructor will see what your normal is and allow you move and progress within your scope.
SaveSave
SaveSave
SaveSave
SaveSave